The Lens (re)Habilitation center for the blind and severely visually impaired aka TLEC (re)Hab Nigeria was established in 2015, for the purpose of helping those who cannot see properly to function n society.
THE LENS EYE CLINIC MEDICAL DIRECTOR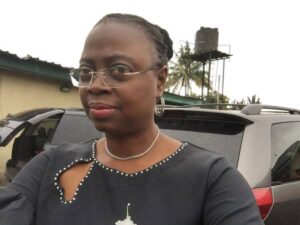 She comes from Osun state, She Had both primary and secondary education in Ibadan and completed medical school in 1990 in University of Ilorin Medical school , Kwara state. She holds surgical qualifications of both West African and Nigerian postgraduate medical colleges and went on to acquire sub specialty training in Pediatric ophthalmology, neuro-ophthalmology and strabismus with a certification in low vision and rehabilitation,and retinopathy of prematurity(ROP) screening in the new newborn from the famous LV Prasad eye institute in Hyderabad, India.
She is in charge of the pediatric eye clinic and of ROP screening in the special care baby unit of the University of Port Harcourt teaching hospital and a professor of Ophthalmology in University of Port Harcourt, Nigeria. She  is the current chairperson of Nigerian Pediatric ophthalmologists (NIPOSS) and helps to run a rehabilitation center in Port Harcourt (TLEC  rehab) . She is involved in training of Human Resource in Orthoptics, low vision evaluation, orientation and mobility, SICS training and undergraduate and postgraduate medical and residency in ophthalmology. She is a Christian and married with Three(3)boys, one of whom is a medical doctor. 
Here are links to her book and research publications below: 
Our Services
One & Two year long Rehabilitation/Training
Type of boarding available – Full boarding, weekdays only(Mon-Fri) and daily attendance  mode available
Modern hostel and private rooms available at subsidized cost
Counselling for parents and prebraille training for children born blind
1-3 months highly specialized training in orientation and mobility, use of smart phone devices and apps, computer literacy, activity of daily living training (selfcare, cooking, etiquette etc), vocational rehabilitation.
Business methods
Sports for the blind
Music lessons
Drama club
Literary and debating society
Studio recording facility of common books for basic and advanced classes(JSS and SSS)
Trainings
Yearly Low vision evaluation training.
Time: January/February every year, since 2018.
Mode
One day crash course
Two week intensive hands on training with provision of basic low vision kit
Provision of advanced low vision kits for teaching/general or large private hospitals
Supply of low vision aids and bi-optic telescopic devices
Opticianary clerkship
Special education teaching practice
Just For $15 A Month You Can Change Someone's Life!